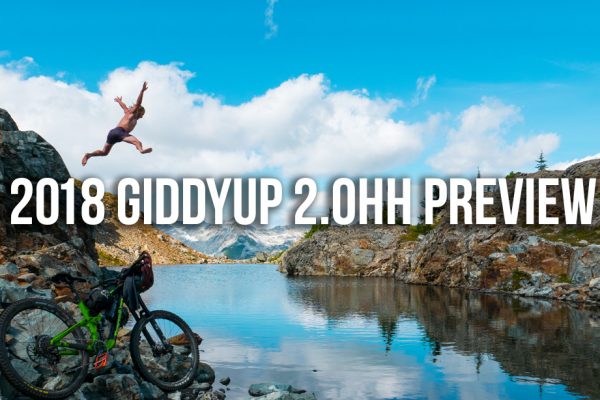 2018 Transition Preview
As a rider owned company we obsess about making and riding bikes that make us better riders and allow us to have more fun on the trail. The entirely redesigned GiddyUp trail bike lineup isn't about just adding a couple new bike industry standards like boost and metric shocks, it's about taking a holistic approach to creating a bike that changes the way riders connect with their bike. Our new 2018 bikes started with a clean slate and new approach to bike geometry we call SBG (Speed Balanced Geometry) that puts the rider in a more balanced position on the bike which improves traction and control at all speeds. Our main focus with the updates was to maintain the ride feel of each model while simultaneously pressing the enhance button a few times.
In addition to integrating our SBG system on all existing models, we've added the Sentinel to our lineup. The Sentinel fit's nicely between the Scout and Patrol in travel range, and is capable of being used in the same manner of both bikes depending on your preference for travel and wheelsize. The Patrol, Scout, and Smuggler feature increased travel, optimized pedaling performance, additional size options, and ton of new features to create our most capable lineup to date.
A variety of RockShox and Fox fork models featuring SBG offsets will be available for purchase with SBG framesets.
New models will be available Spring of 2017
---
SENTINEL
29″ / 160mm FRONT 140mm REAR / ALLOY FRAME


* New Model For 2018
* New GiddyUp Kinematics
* Speed Balanced Geometry
* Boost Dropout Spacing
* Trunion Metric Shock Sizing
* Enduro Max Sealed Bearings
* Threaded Bottom Bracket
* Molded Rubber Downtube & Chainstay Protection
* New Rattle Free Internal Cable Port Covers
* External Rear Brake Routing
* 180mm Post Mount Brake
* Increased Seatpost Insertion
* Collet Main Pivot
* Water Bottle Storage Inside Front Triangle
* Tire Clearance up to 29″ x 2.5″

---

PATROL
27.5″ / 170mm FRONT 160mm REAR / ALLOY FRAME


* New GiddyUp Kinematics
* Speed Balanced Geometry
* Boost Dropout Spacing
* Trunion Metric Shock Sizing
* Enduro Max Sealed Bearings
* Threaded Bottom Bracket
* Molded Rubber Downtube & Chainstay Protection
* New Rattle Free Internal Cable Port Covers
* External Rear Brake Routing
* 180mm Post Mount Brake
* Increased Seatpost Insertion
* Collet Main Pivot
* Water Bottle Storage Inside Front Triangle
* New X-Small Size
* Tire Clearance up to 27.5″ x 2.8″

---

SCOUT
27.5″ / 150mm FRONT 130mm REAR / ALLOY FRAME


* New GiddyUp Kinematics
* Speed Balanced Geometry
* Boost Dropout Spacing
* Metric Shock Sizing
* Enduro Max Sealed Bearings
* Threaded Bottom Bracket
* Molded Rubber Downtube & Chainstay Protection
* New Rattle Free Internal Cable Port Covers
* External Rear Brake Routing
* 180mm Post Mount Brake
* Increased Seatpost Insertion
* Collet Main Pivot
* Water Bottle Storage Inside Front Triangle
* New X-Small Size
* Tire Clearance up to 27.5″ x 2.8″

---

SMUGGLER
29″ / 140mm FRONT 120mm REAR / ALLOY FRAME


* New GiddyUp Kinematics
* Speed Balanced Geometry
* Boost Dropout Spacing
* Metric Shock Sizing
* Enduro Max Sealed Bearings
* Threaded Bottom Bracket
* Molded Rubber Downtube & Chainstay Protection
* New Rattle Free Internal Cable Port Covers
* External Rear Brake Routing
* 180mm Post Mount Brake
* Collet Main Pivot
* Water Bottle Storage Inside Front Triangle